A Living Legacy
With a heritage spanning nearly 400 years, Comyns, among history's finest silversmiths, has captured the interest and admiration of many prominent individuals, from aristocrats and royalty to collectors, noblemen and corporations alike.
With a hallmark that can be traced back to the 17th century, Comyns, for centuries, has been offered and exchanged to mark significant moments and milestones.
Today, the Comyns legacy lives on.
Pioneers of Silversmithing
Comyns began by specialising in decorative dressing tableware and later became renowned for its interpretative works, particularly of Paul de-Lamerie, whose pieces are most highly prized.
Over the years, Comyns became Great Britain's premier silversmith and a manufacturer to prestigious silver brands and jewellers in the world. Some of Comyns' masterpieces are in the collections of the Great Houses of Britain and the Victoria and Albert Museum of London, today.
Preserving The Heritage Of Craftsmanship
The skills of our artisans were developed by master craftsmen on a five-year apprentice scheme. 
Today, Comyns is still known for its traditional English silversmithing methods.
Pride of Comyns
Comyns' rich legacy includes an archive containing more than 35,000 historical moulds, tools, patterns and drawings.
Comyns' pride is in its decorative household items like tableware, pitchers, tea sets, candlesticks and a wealth of centrepiece designs like the glorious Peacock, majestic Swan and other ornate items, with designs stemming from history's significant movements of decorative art that include the Baroque, Rococo, Neo-Classical and Nouveau styles.
Its commitment to design and craftsmanship has seen Comyns develop a loyal following amongst discerning individuals and corporations, many of whom have also commissioned Comyns to produce bespoke designs.
Today, the Comyns' silversmithing craftsmanship lives on and the brand is not only renowned for its luxurious silverware, but also its silver jewellery. While it continues to develop new designs for today's consumers, one fact remains - Comyns' works of today will become the
cherished heirloom of tomorrow.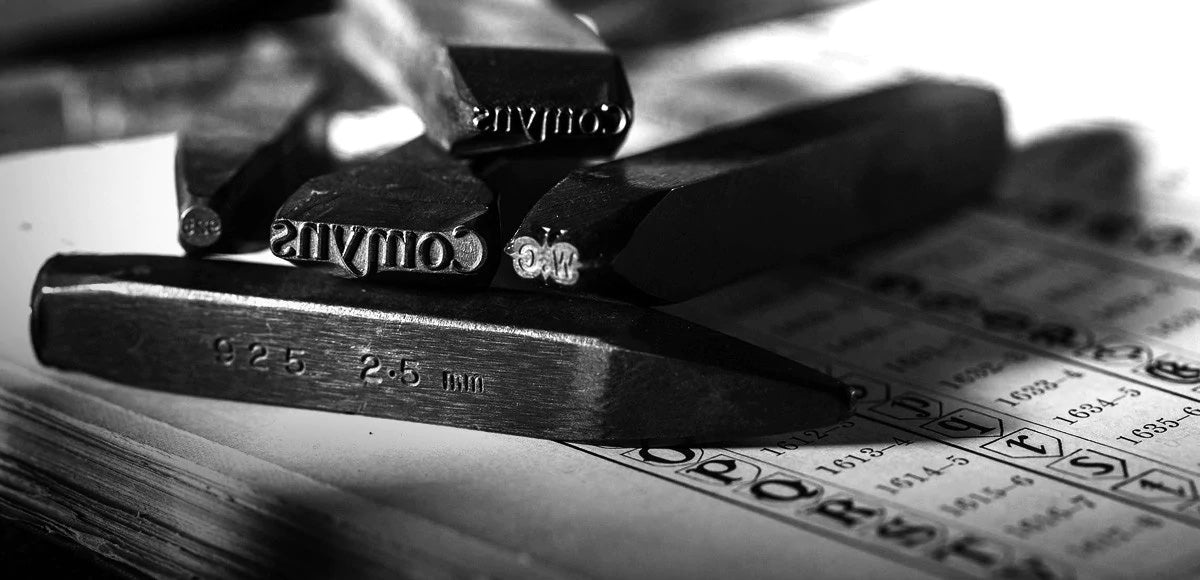 Our Hallmarks
Comyns traces its hallmark back to 1645. 
Comyns' hallmarks were instituted in the fourteenth century. The practice of impressing symbols on gold and silver objects was initiated as a method of quality control and consumer protection.
Maker's Mark

The Maker's Mark is a personal sign of the silversmith and can be likened to an artist's signature on a painting.

Sterling Silver Mark

The metal content is confirmed with the symbol '925', which is the internationally accepted standard for sterling silver. It comprises 925 parts per thousand or 92.5 percent of silver in the alloy.

Assay Office Mark

Each assay office is represented by its own mark. The cougar's head is the mark of the Kuala Lumpur Assay Office of Malaysia.

Date letter

The date letter or assay year is used to date an article. Each year is represented by a different letter, with 'x' representing 2022. Each cycle is differentiated with a different typeface and shield.
Silver, a highly revered and valuable commodity, has always been associated with power, prestige and wealth. Silver, along with gold and platinum, are considered precious and noble metals.
Magnificent examples of craftsmanship from as early as 3,000 BC prove the versatility and value of silver from a decorative and a functional perspective.
Silver, the most reflective of all metals, has been essential in the evolution of how we "see" ourselves; first in the form of beautiful decorative mirrors made from burnished metal, then in the form of silver-coated mirror backs. Silver nitrate was also used to capture our 'image' in the first photographs and daguerreotypes, the precursors of modern photography.
The use of silver as currency spread throughout the world and ultimately led to one of the first consumer protection acts in the form of "assay" and "hallmark". These methods were meant to prevent unscrupulous craftsmen from clipping the edges of silver coins and to guarantee the metal's purity.
Even today, silver plays an essential role in our exploration of space. The Hubble telescope has silvered lenses that reflect the furthest reaches of our universe.
The Art of Silversmithing
Silver is traditionally decorated using the chasing technique. In chasing, the surface is worked from the front, using tools that indent and raise the design without removing any silver - resulting in fine detailing, such as the feathers on a life-size swan sculpture.
While the chasing technique is hammering a silver piece from the front, repoussé is a technique in which the detailing on a silver piece is shaped by hammering from the reverse side to create a design in low relief. Both techniques are often used together, mostly in the creation of our elaborately-designed footed bowls.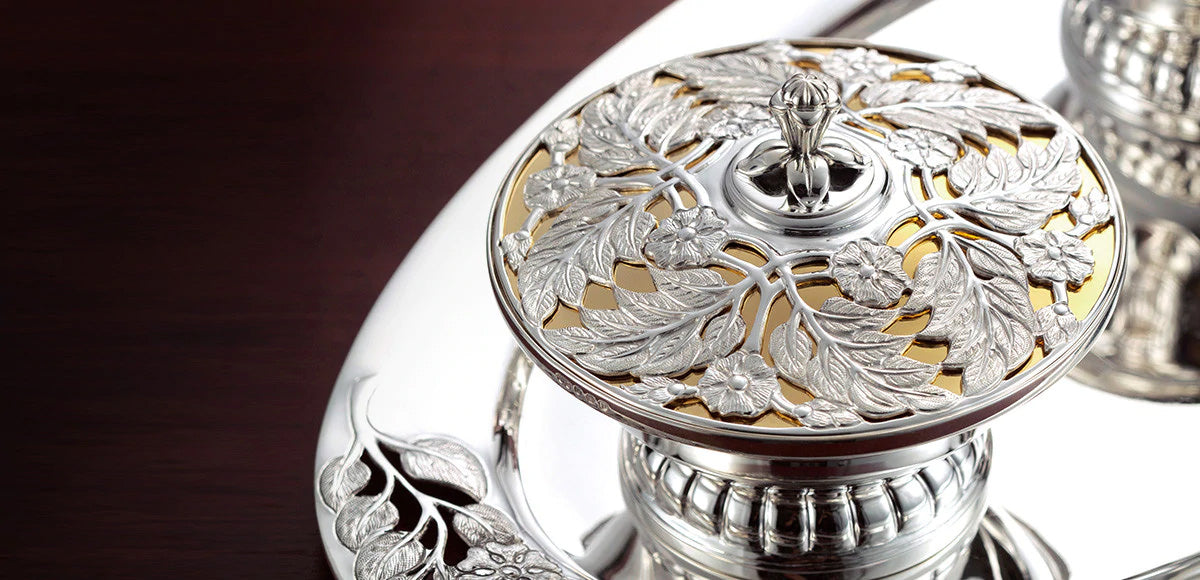 Silver Care
Keep your Comyns silver looking immaculate by wiping it with Comyns' silver care cloth regularly.  To clean off dirt or oil marks, use a damp cloth with warm soapy water and wipe it dry with a soft cloth.  With careful use, the article will take on its unique bloom or butler finish, a look that simply gets better with age.
Filled Products
Every Comyns sculpture is individually crafted in bonded porcelain to capture a particular moment, look or expression of an animal, or to faithfully reproduce an object. The sculpture is then enhanced with a layer of fine silver using sophisticated electro-deposit techniques. The item then goes through twelve different manufacturing processes. The final step is to add a protective sealant to preserve the bright finish.
If engraving is required, it is preferable to engrave onto a separate silver sheet and mount it on a plinth. Laser engraving is not advisable.
To maintain the beauty of the sculpture, an occasional dusting will suffice. Hard cleaning materials, including silver polish, are not recommended.